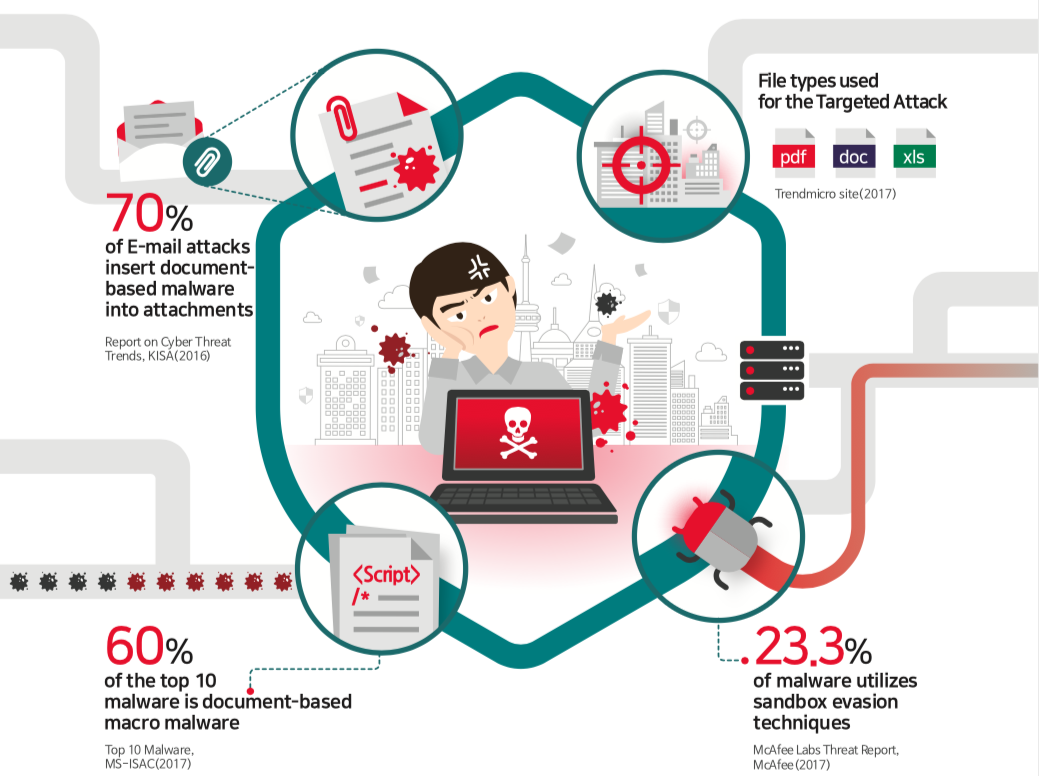 What is CDR (Content Disarm & Reconstruction)?
Gartner, an IT research firm that can effectively respond to security threats that are becoming advanced and smarter, 
introduces CDR, along with network sandbox, as a solution to respond to advanced attacks at the secure E-mail gateway.
CDR, The next generation malware protection technology
CDR disarms active contents (Macro, JavaScript, OLE objects, etc) in files and recombines the disarmed files as safe files. Use of CDR as a solution to respond to document-based malware attacks, such as Ransomware and APT, is increasing, because it removes the active contents in files to prevent the execution of security threats in advance.

Protect and Prevent! SaniTOX, a solution for preemptive response
SaniTOX is a contents malware disarm solution which employs Jiran Security's CDR engine, developed based on the company's contents security operation know-how and technology. SaniTOX establishes a secure environment in which potential security threats are prevented in advance, by removing active contents in files coming through various channels, such as E-mails and web·file servers, and reconstructing the disarmed files as safe files.

SaniTOX main features
CDR (Content Disarm & Rescontruction) and Anti Virus
Flexible Policy Management
Log and Statistics Report
Supports Various Integration Methods
Supports Various File Formats
Appliance Optimization
To learn more about SaniTOX, visit https://en.jiransecurity.com/products/sanitox