Tech companies have seen major leaks of their intellectual property in recent years. CAD files or product specifications have been leaked over USB devices, email, or via online cloud services.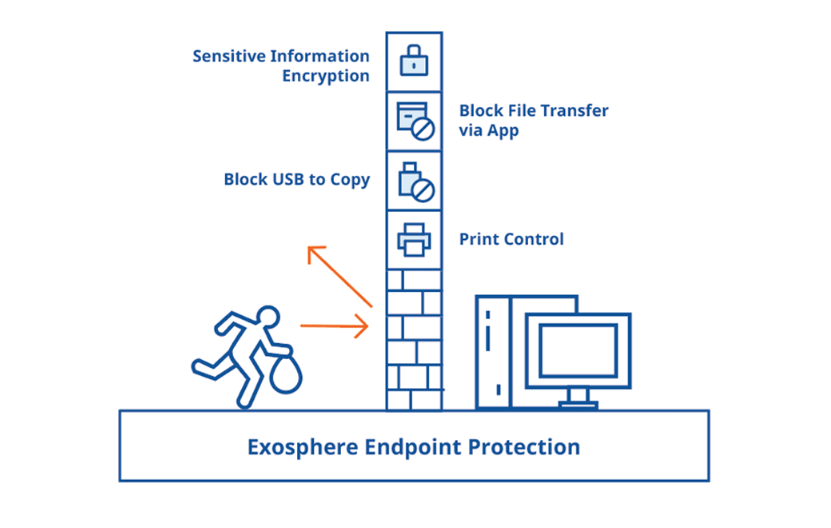 How to protect intellectual property from malicious insider?
By using Exosphere, it gets easier to address the issues.
<Discover and secure sensitive data>
Exosphere can scan all user devices to discover sensitive documents (e.g. CAD files, files containing credit card or social security numbers) and then generate a report, or even automatically encrypt such documents.
<Block USB Devices>
USB storage devices can be used to transfer large amounts of data outside the organization. Exosphere can apply device control policies that restrict the copying of files containing sensitive data (or all files) to USB devices. Such a policy can be assigned to all users or to specific groups of users (e.g. engineering). Exosphere may also be set to auto-encrypt sensitive file moved to a USB device.
<Block file transfer>
Files are often shared without permission over email, instant messenger or online services. Exosphere can be set to block file transfer via all these channels. Users may request exceptions from the administrator if they believe they have a legitimate business reason for it.
<Deter unauthorized printing>
Exosphere applies visible watermarks to printed documents. By doing so, the document will include the printer's information, thereby deterring the transfer of such a printout.
for more information, visit https://exospheresecurity.com/